X Factor USA 2012 YouTube Videos
Tate Stevens' Audition
Top 10 Performs - Fix You with choir
Carly Rose Sonenclar's Audition
Carly Rose Sonenclar - Brokenhearted
Carly Rose Sonenclar - Heart Goes On
Carly Rose Sonenclar - Somewhere Over The Rainbow
Carly Rose Sonenclar - It Will Rain
Carly Rose Sonenclar - Rolling in the Deep
Carly Rose Sonenclar - As Long As You Love Me
Carly Rose Sonenclar - Your Song (semi-finals)
Carly Rose Sonenclar with LeAnn Rimes - How Do I Live (finals)
Carly Rose Sonenclar - Hallelujah (finals)
Tate Stevens' Audition
Tate Stevens - I'm Already There
Tate Stevens - From This Moment
Tate Stevens - A Wanted Man
Tate Stevens - Tough
Tate Stevens - Somebody Like You
Tate Stevens - If Tomorrow Never Comes
Tate Stevens - Fall (semi-finals)
Tate Stevens with Little Big Town - Pontoon (finals)
Fifth Harmony - Impossible
Fifth Harmony - I'll Stand By You
Fifth Harmony - Heroes
Fifth Harmony - Skyscraper
Fifth Harmony - A Thousand Years
Fifth Harmony - What Doesn't Kill You Makes You Stronger
Fifth Harmony - Give Your Heart a Break
Fifth Harmony - Set Fire to the Rain
Fifth Harmony - Impossible (semi-finals)
Fifth Harmony with Demi Lovato - Give Your Heart a Break (finals)
Fifth Harmony - Anything Could Happen (finals)
Emblem 3 - Baby, I Love Your Way (semi-finals)
Emblem 3 - Hey Jude (semi-finals)
Cece Frey - Ain't no other man
CeCe Frey - Wind Beneath My Wings
CeCe Frey - Eye of the Tiger
CeCe Frey - Lady Marmalade
Beatrice Miller - Titanium
Top-8
The X Factor USA 2012 Judges.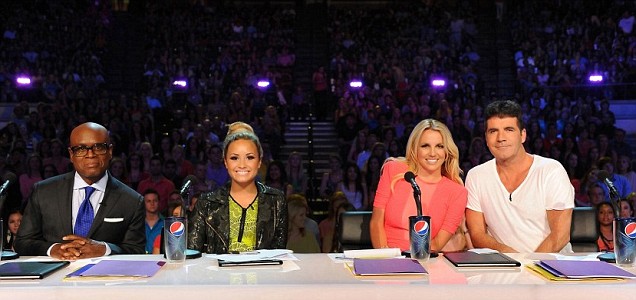 Carly Rose Sonenclar is one of my favorites and, in my opinion, is the best female voice in X Factor 2012.
I am very impressed with Tate Stevens' voice and even though his type of music is not my preference, I enjoy his performances. He is very genuine.
Fifth Harmony - they sound excellent.
I like CeCe Frey who is at the bottom of the top-8 and needs vocal improvement to advance.
Back to Blog main page.