27-Mar-2011
Accessing Financial Services via Mobile Phones
Where do you primarily access your financial services via your mobile phone?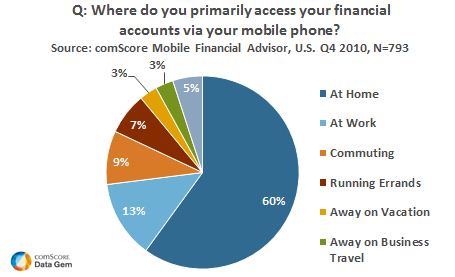 According to a Q4/2010 comScore survey, 60% of U.S. respondents answered "at home" as their primary location while 13% answered "at work". The other locations follow in decreasing percentage. Also from comScore survey data, 30 million Americans accessed financial services (bank, credit card, or brokerage) using their mobile phones, for a 54% usage increase in 2010. The surprising finding is the major usage from home.
Although it makes sense to me that people choose to look at their financial matters at home, it is a surprise that they do so from their mobile phones. There are a couple of reasons that might explain this.
The mobile phone is the device of choice to reach for.
People prefer to not sit at their desktop computer.
Other related usage questions of interest include:
Do people prefer the mobile phone over laptop and desktop computers?
Will tablet computer usage replace that of laptop and desktop computers?
Related Reading:
iPad Competition Dead (for now)
Google is closing the gap on smartphone apps
How Android Tablet Computers can Beat the iPad
Blog Entries Listing
2010
Aug
Sep
Oct
Nov
Dec
2011
Jan
Feb
Mar
Apr
Jun
Sep
Oct
Dec
2012
Jan
Feb
Apr
May
Jun
Oct
Nov
Dec
2013
Jan
Feb
Mar
May
Jun
Dec
2014
Jan
Mar
Jun
Jul
Aug
Oct
Nov
Dec
2015
Jan
Feb
Mar
Apr
May
Jun
Oct
Nov
Dec
2016
Jan
Feb
Mar
Apr
May
Jun
Jul
Aug
Sep
Oct
Nov
Dec
2017
Jan
Feb
Apr
Oct
2018
Jan
Feb
Mar
Apr
2020
Mar
Apr
May