07-Feb-2012
EditPlus, The Last Text Editor You Will Ever Need
The EditPlus text editor from editplus.com is the last editor you will ever need. If you are in the market for an editor with capabilities for everyday text editing and the ability to handle HTML content for web pages, this is the editor for you.
I currently use EditPlus 3.20 and find this to be not only my editor of choice but the tool that I use the second most in the run of a day (the Firefox browser being the most used). Here are the major uses of EditPlus for my daily activities:
For my web programming needs, EditPlus is the ideal editor as it offers HTML support and the ability to FTP transfer my editing changes directly to my web server on the Internet where my websites are hosted.
I compose my blog comments prior to submission to blogging sites.
I edit material for my Facebook, Google+ and Twitter postings.
I compose my articles for submission to article directories.
Syntax highlighting is available for various web programming languages including CSS, HTML, PHP and JavaScript. This allows for easy-to-view separation between language tags and content.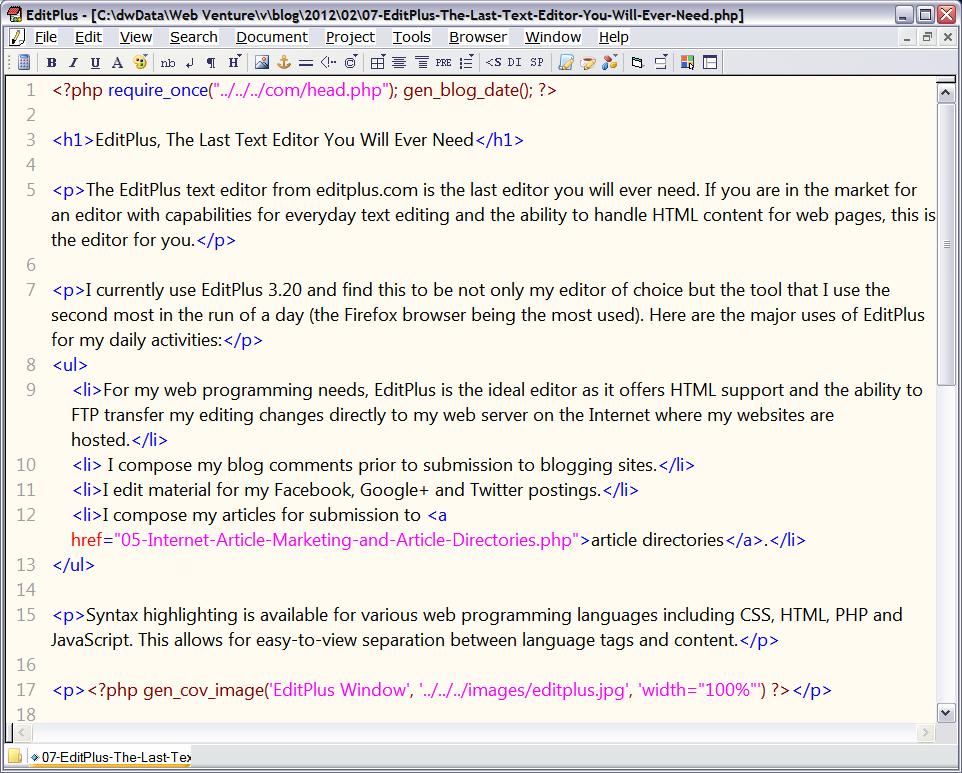 Standard editor functions such as alignment and indentation control, spell check, word and character count plus the ability to record and use macros are all offered by EditPlus.
Search and replace functions with case selection allow for productive manipulation of the file or across multiple files.
There is an ability to split the EditPlus window into four panes for simultaneous viewing of different portions of the file.
The "Find in Files" feature is excellent for finding the files containing a given string.
Blog Entries Listing
2010
Aug
Sep
Oct
Nov
Dec
2011
Jan
Feb
Mar
Apr
Jun
Sep
Oct
Dec
2012
Jan
Feb
Apr
May
Jun
Oct
Nov
Dec
2013
Jan
Feb
Mar
May
Jun
Dec
2014
Jan
Mar
Jun
Jul
Aug
Oct
Nov
Dec
2015
Jan
Feb
Mar
Apr
May
Jun
Oct
Nov
Dec
2016
Jan
Feb
Mar
Apr
May
Jun
Jul
Aug
Sep
Oct
Nov
Dec
2017
Jan
Feb
Apr
Oct
2018
Jan
Feb
Mar
Apr
2020
Mar
Apr
May