Hot Technology Stocks (Dec/2010)
Here are two technology stocks that picked up a lot of attention in year 2010 in contrast to one that did not.
Netflix is up 250% year to date and saw much praise with CEO Reed Hastings being named businessperson of the year by Fortune.
Apple is up 50% year to date and is the center of many conversations on technology and media mostly on the growth of the iPad and the iPhone.
OpenTable is up 200% year to date but one does not hear much about it in the world of technology.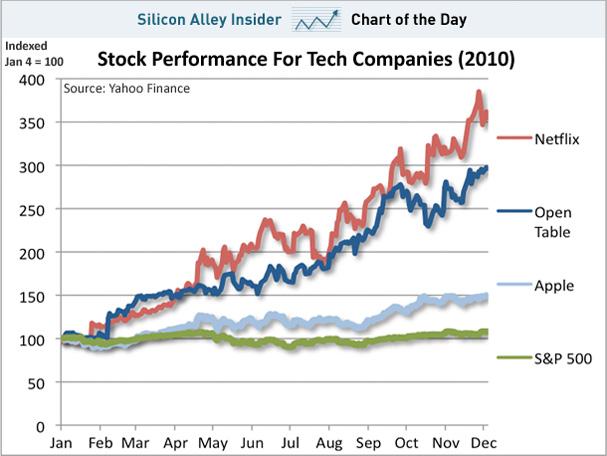 Note the comparison above is shown with a scale which indicates the gain from a base of 100 since January/2010. Actual stock prices can be found in the candlestick charts for:
More you might like
This article examines various elements of importance for trading gold stocks.
This article covers my ranting on stock market day trading in the month of March/2009. Main lessons learned are listed to be remembered.
This article covers the experience of seeking trust-worthy sources of information on penny stock picks where amusing and incredulous material was encountered.
Here is a look at the stock comparison of two competing companies in year 2010. Baidu versus Google.
This article provides insights into the thought process of a person engaged in learning about stock market trading.