Hot Technology Stocks (Dec/2010)
Here are two technology stocks that picked up a lot of attention in year 2010 in contrast to one that did not.
Netflix is up 250% year to date and saw much praise with CEO Reed Hastings being named businessperson of the year by Fortune.
Apple is up 50% year to date and is the center of many conversations on technology and media mostly on the growth of the iPad and the iPhone.
OpenTable is up 200% year to date but one does not hear much about it in the world of technology.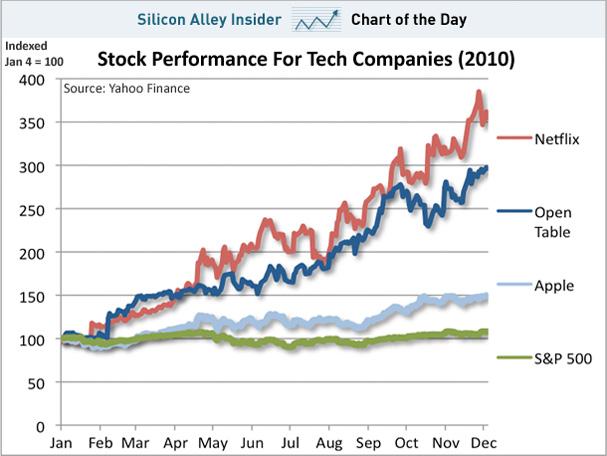 Note the comparison above is shown with a scale which indicates the gain from a base of 100 since January/2010. Actual stock prices can be found in the candlestick charts for:
More you might like
This article compares paper trading with trading involving real money. Failure in paper trading is a sign that the person should not partake in real trading. Success in paper trading does not necessarily mean a person will succeed in real trading.
This article covers the experience of seeking trust-worthy sources of information on penny stock picks where amusing and incredulous material was encountered.
This article examines tips for stock trading discipline which when applied stringently as rules will lead to stock trading success.
Buying and selling of private company shares in secondary market exchanges.
This article examines the elements of successful stock trading. A stock trading method to execute winning trades and to achieve trading success. A trend following system based on candlestick technical analysis.