02-Dec-2010
Delicious Experience
Continuing with my theme on leveraging social media networking, my latest adventure takes me to the land of Delicious experience. Delicious is a social bookmarking service with its original domain name delicio.us in the .us TLD (top level domain). In 2005, it was acquired by Yahoo and now the service is offered by Delicious from Yahoo.
Bookmarks can be saved in a Delicious account with tags assigned. All bookmarks appear at one level without hierarchy. The tags allow grouping and categorizing of bookmarks to be defined by the user. Click on the following image to visit my Delicious page.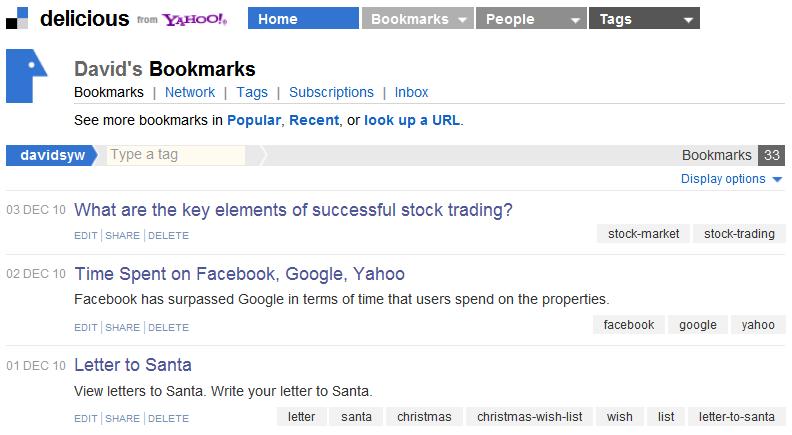 In the Delicious page, clicking on a tag will display all the bookmarks associated with that tag. I defined my tags on first-pass when creating the bookmarks; tags can be added, deleted or edited at any time. An RSS feed can be created for a given set of bookmarks e.g. all of them or a subset of bookmarks scoped by tag. An RSS reader can then be used to subscribe to the RSS feed to view them and to receive updates when new bookmarks are added.
You can access the RSS feed by using the RSS feed link at the bottom of the Delicious page. From the Delicious RSS feeds page, you can subscribe via available feed providers. I encountered problems with the Delicious RSS feed page when using Chrome 3 and Internet Explorer 8 (could not access the feed).
As an alternative, I have an RSS feed of my Delicious bookmarks (links) created through the Google Feedburner service. The RSS feed and the Delicious links can be accessed using the icons as illustrated below. These icons appear at the top-right as well as the bottom of each website page.
In my building backlinks exercise, I get backlinks from various websites where I comment on a blog post or article on the website. Such links are typically "nofollow". SEO information indicates that "dofollow" links are more valuable than "nofollow" links. However, the opportunity to get "dofollow" links is scarce unless money is used to buy quality "dofollow" links. The RSS feed provided by Delicious or by the Feedburner service consists of "dofollow" links. Therefore, it is beneficial when users create RSS links of my Delicious bookmarks. Not only does it represent users wanting to read my content but it also creates good SEO for my website.
Blog Entries Listing
2010
Aug
Sep
Oct
Nov
Dec
2011
Jan
Feb
Mar
Apr
Jun
Sep
Oct
Dec
2012
Jan
Feb
Apr
May
Jun
Oct
Nov
Dec
2013
Jan
Feb
Mar
May
Jun
Dec
2014
Jan
Mar
Jun
Jul
Aug
Oct
Nov
Dec
2015
Jan
Feb
Mar
Apr
May
Jun
Oct
Nov
Dec
2016
Jan
Feb
Mar
Apr
May
Jun
Jul
Aug
Sep
Oct
Nov
Dec
2017
Jan
Feb
Apr
Oct
2018
Jan
Feb
Mar
Apr
2020
Mar
Apr
May