18-Feb-2011
The Collapse of the Music Industry
Does collapse necessarily mean death?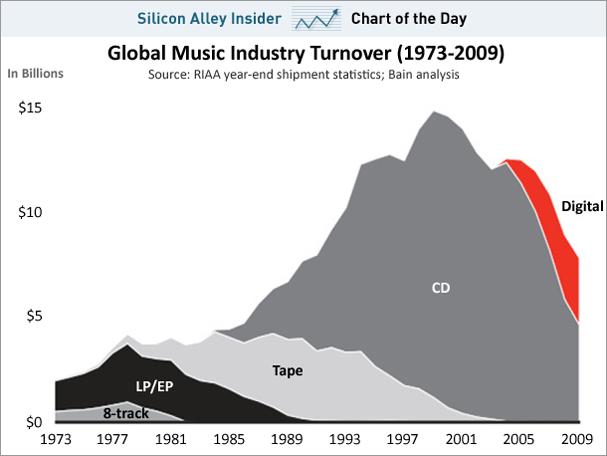 The 8-track medium died in the early 1980s. The vinyl record died around 1990, although there are vinyl die-hards that live on along with the high-end audio aficionados (the high-end audio industry has been in serious decline for many years now). I had not particularly noticed that the cassette tape died around 2005 (I dropped the use of tapes since the introduction of the audio CD in 1983).
Now the observation is on the continuing decline of the audio CD format, possibly to extinction as with all preceding mediums. Even digital is showing decline with the legitimate question - will the music industry died altogether? I think mediums and formats die but music and the associated industry will continue. The best original music is now being written and produced for the movie industry. Classical music listened to in year 2099 on Mars will be music from early 21st century Earth.
The "industry" manifestation might be self-promoted musicians publishing their works on YouTube and earning revenue on their work without recording companies playing the role of the middleman collecting their portion of the revenue. In general, the Internet offers an unmatched level of disintermediation.
Blog Entries Listing
2010
Aug
Sep
Oct
Nov
Dec
2011
Jan
Feb
Mar
Apr
Jun
Sep
Oct
Dec
2012
Jan
Feb
Apr
May
Jun
Oct
Nov
Dec
2013
Jan
Feb
Mar
May
Jun
Dec
2014
Jan
Mar
Jun
Jul
Aug
Oct
Nov
Dec
2015
Jan
Feb
Mar
Apr
May
Jun
Oct
Nov
Dec
2016
Jan
Feb
Mar
Apr
May
Jun
Jul
Aug
Sep
Oct
Nov
Dec
2017
Jan
Feb
Apr
Oct
2018
Jan
Feb
Mar
Apr
2020
Mar
Apr
May