28-Feb-2011
Zynga Texas Holdem Poker Room
Having made my comments about my disapproval with the Zynga tactics and business model in my blog entry The World of Online Texas Holdem, I must confess that I tried out Zynga Texas Holdem. After repeated invitations from my Facebook friends to join, I finally took the plunge. Persistence does get results, so I am once again reminded.
The Zynga Texas Holdem game is offered as a web application through a web browser. There is no software to download and install as in the case of the PokerStars Texas Holdem poker software for Windows (or the Mac), see this PokerStars table image.
Here are screenshots of the Zynga Texas Holdem lobby, table and promotion.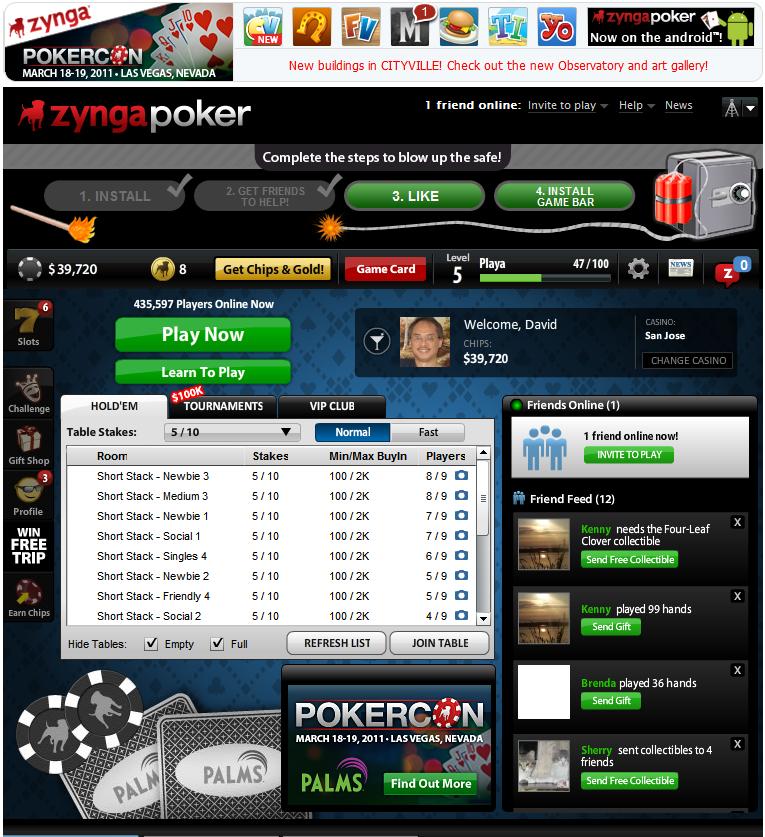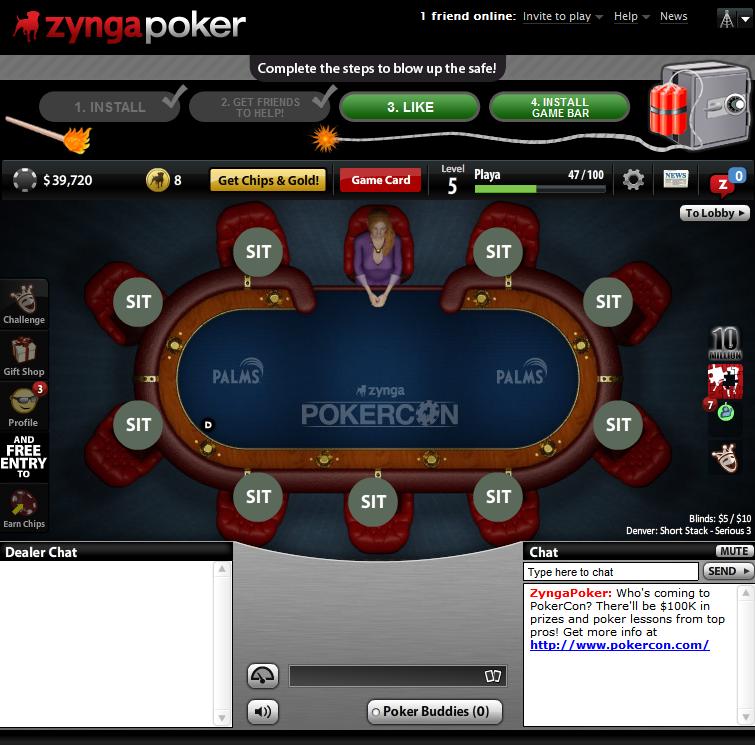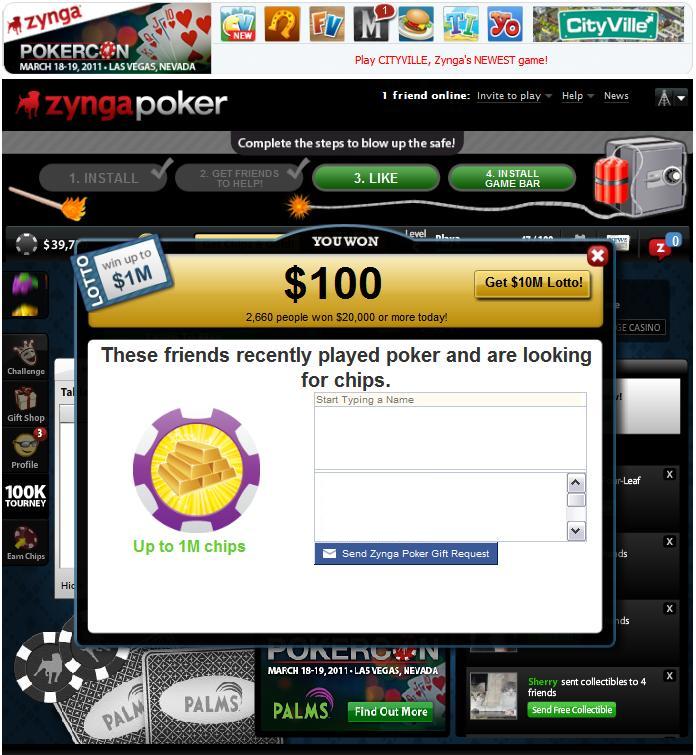 I played on various tables with a 5/10 small/big blind. The tables that I visited were limited to 2000 buy-in. I started my experience in Zynga Texas Holdem with 3000 as it was a gift from one of my Facebook friends (actually, I think how it works is that my friend requested a gift to be sent to me without taking any poker chips from her bankroll).
As was the case with the PokerStars Texas Holdem table, it took time for me to get accustomed to the navigation. What makes it more challenging are the numerous distractions which are good from a social perspective but hinders focus and concentration. As I played at a table, offers came my way to buy gifts for others. I largely ignored them since I was concentrating on playing Texas Holdem, for the first time on Zynga.
I ended my first-ever Zynga Texas Holdem play with a bankroll of 39,720. Not all of this was earned through winning Texas Holdem poker hands. I kept getting rewards as time went on and I was elevated in the Zynga levels system. There are various ads and promotions that Zynga continually pushes at me during my time in Zynga Texas Holdem, whether in the lobby or at a table.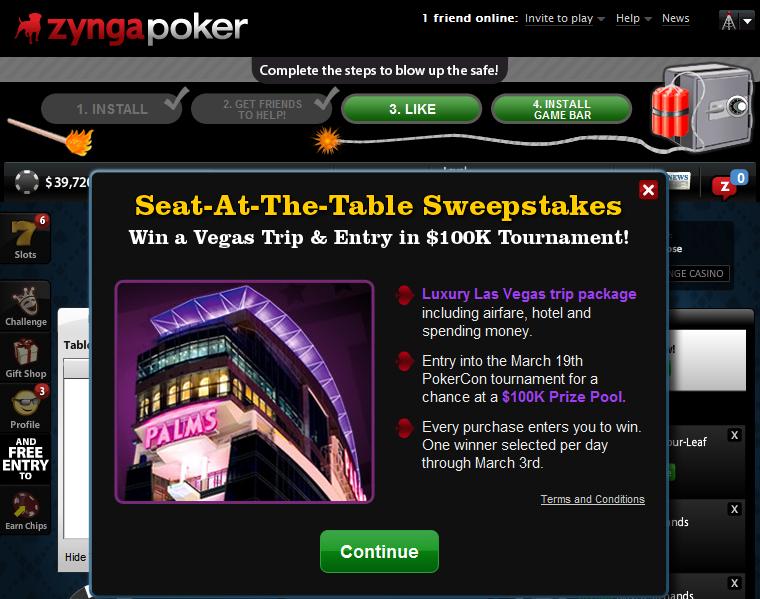 In contrast, my day-1 winnings in PokerStars Texas Holdem was 17,587 and this was 100% from winning poker hands. This is a true measure as opposed to the Zynga perks adding to my Zynga Texas Holdem bankroll. After playing Zynga Texas Holdem, I proceeded to PokerStars to see if my day-1 performance was due to beginner's luck. I ended up my second session with 49,807, again playing on 5/10 tables with a maximum buy-in of 2000.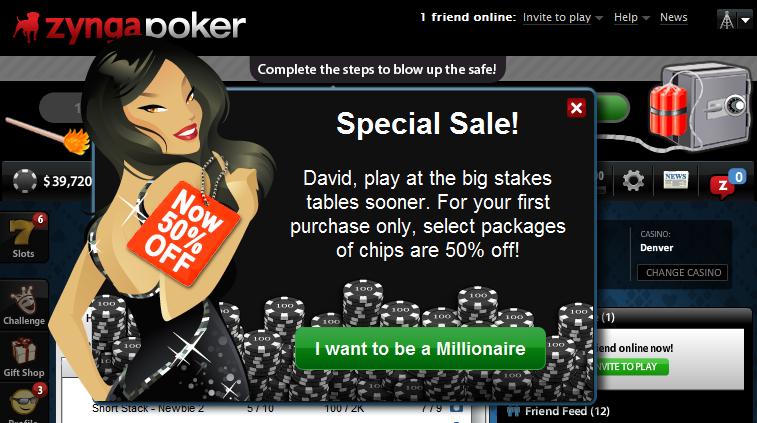 Here is a promotion that directly targets to get me onto Zynga tables where I have to pay to play. PokersStars has real money tables where they earn revenue through the rake and other means but PokerStars is not in-your-face about it.
See my blog entry on PokerStars Texas Holdem Poker Room for related reading.
Blog Entries Listing
2010
Aug
Sep
Oct
Nov
Dec
2011
Jan
Feb
Mar
Apr
Jun
Sep
Oct
Dec
2012
Jan
Feb
Apr
May
Jun
Oct
Nov
Dec
2013
Jan
Feb
Mar
May
Jun
Dec
2014
Jan
Mar
Jun
Jul
Aug
Oct
Nov
Dec
2015
Jan
Feb
Mar
Apr
May
Jun
Oct
Nov
Dec
2016
Jan
Feb
Mar
Apr
May
Jun
Jul
Aug
Sep
Oct
Nov
Dec
2017
Jan
Feb
Apr
Oct
2018
Jan
Feb
Mar
Apr
2020
Mar
Apr
May