21-Jun-2011
Returning after an absence
In the past few months, I have been busy with another project pertaining to the world of computer vision with a resulting neglect to create content for this site.
My indulgence in social media has dwindled during this period. My Facebook pages (profile page and fan page) have not been kept up-to-date with activities. I have not followed activities of my Facebook friends. My Twitter activity has gone comatose.
Fortunately, my site visitor count has remained up although more content creation, more link building activity and more social media engagement will bode well for this site.
Traffic Source Breakdown
Nov/2010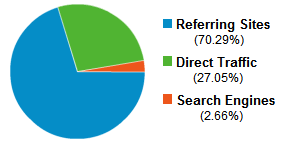 very little traffic from search engines
Mar/2011
increasing search engine traffic
June/2011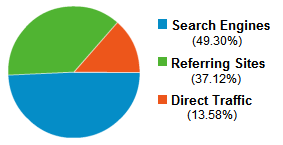 search engine traffic leads
Blog Entries Listing
2010
Aug
Sep
Oct
Nov
Dec
2011
Jan
Feb
Mar
Apr
Jun
Sep
Oct
Dec
2012
Jan
Feb
Apr
May
Jun
Oct
Nov
Dec
2013
Jan
Feb
Mar
May
Jun
Dec
2014
Jan
Mar
Jun
Jul
Aug
Oct
Nov
Dec
2015
Jan
Feb
Mar
Apr
May
Jun
Oct
Nov
Dec
2016
Jan
Feb
Mar
Apr
May
Jun
Jul
Aug
Sep
Oct
Nov
Dec
2017
Jan
Feb
Apr
Oct
2018
Jan
Feb
Mar
Apr
2020
Mar
Apr
May