18-Mar-2014
Google Can't Satisfy Every Search
Out on my drive in sunny conditions and only -1C, I saw "Google Can't Satisfy Every Search" on the side of a church. I did not want to stop to take a picture and I did not want to do a drive-by shooting (with my camera). When I got home, I looked it up in Google search - found 12,100,000 results. Here is an image from my search results.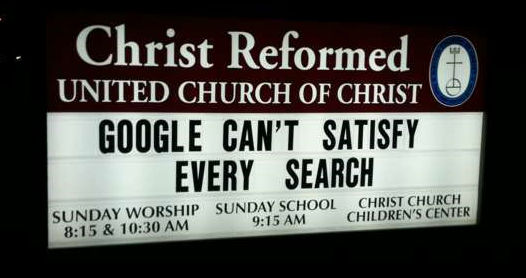 I am an Atheist who uses agnostic to describe my religious orientation. I use agnostic to avoid the argumentive retort "How can you prove the non-existence of God?" which leads down the path to "And which God are you talking about?". The problem with me using agnostic is that it invites the question "Are you changing your religious orientation?".
For me, Google can satisfy my every search, and then some! Thank God I'm an Atheist.
The Religous: Google can't satisfy every search.
This Atheist: I can't get enough Googe search satisfaction.
Why don't we all join and sing "(I can't get no) satisfication"?
I should go take a picture of that church sign, post it, and have it come up in first position of Google Search results. That would be an impressive link building SEO project outcome.
Blog Entries Listing
2010
Aug
Sep
Oct
Nov
Dec
2011
Jan
Feb
Mar
Apr
Jun
Sep
Oct
Dec
2012
Jan
Feb
Apr
May
Jun
Oct
Nov
Dec
2013
Jan
Feb
Mar
May
Jun
Dec
2014
Jan
Mar
Jun
Jul
Aug
Oct
Nov
Dec
2015
Jan
Feb
Mar
Apr
May
Jun
Oct
Nov
Dec
2016
Jan
Feb
Mar
Apr
May
Jun
Jul
Aug
Sep
Oct
Nov
Dec
2017
Jan
Feb
Apr
Oct
2018
Jan
Feb
Mar
Apr
2020
Mar
Apr
May