Google Stock Performance (Jan/2011)
Google is included in the Google, Yahoo, Facebook Revenue article. Here is a look at Google's stock performance under former CEO Eric Schmidt's tenure. With Eric Schmidt moving from CEO to Executive Chairman of Google, Larry Page becomes the new incoming CEO.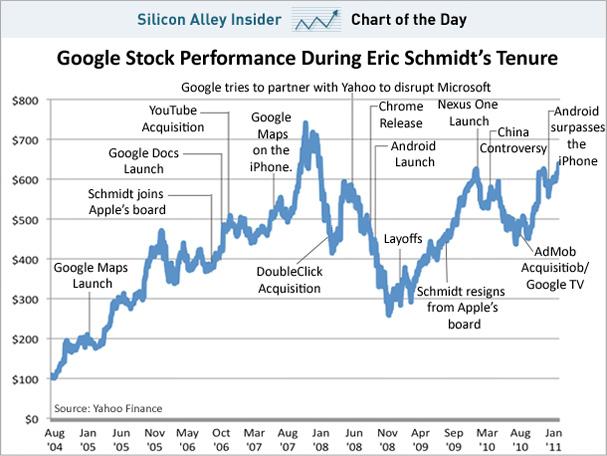 Google's stock performance has taken an impressive rise during Eric Schmidt's tenure as CEO of Google. With pullback in 2008, recovery in 2009, a dip followed by recovery in 2010, is it poised to rise higher in 2011?
Major Google events are shown in the chart and each warrants its own story. Here follows brief mention of some events:
Google has yet to make big on monetizing its YouTube asset.
The Chrome market penetration is progressing but faces browser market share challenge against Internet Explorer and Firefox.
Android mindshare is increasing.
Google's pullout from China in March/2010 did not help Google's revenue.
Google TV penetrates the streaming video market.
As Google continues to penetrate and grow business in various market segments including Fiber Optics Networks, Google stock is worth considering as Google aspires to become the ultimate one-stop brand of all time.
Stock trading articles can be found in the stock market segment of this website where you will also find a guided series of articles on stock market trading and explanation of candlestick technical analysis techniques, in addition to candlestick charts.