Google, Yahoo, Facebook Revenue
The awesome Facebook statistical facts blog entry covered Facebook's surpassing of Google in visitor traffic. However, when it comes to revenue, Google still shows the greatest growth in the first 6 years of existence when compared against Facebook and Yahoo.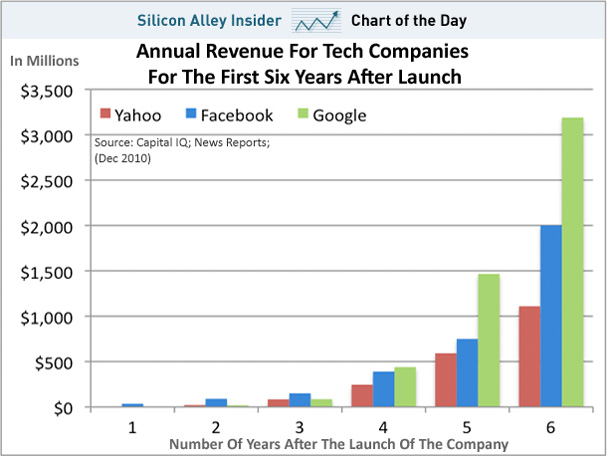 The point can be made that Facebook in its early existence did not emphasize revenue generation. But the same point can be made about Google. However, when Google did focus on revenue growth, they achieved it in magnificent fashion.
Facebook is continuing to delay its IPO with a market-speculated target of 2012 for going public. Valuations range from $30B to $56B depending on whose reports you read with a $200B valuation by 2015 on a $32B revenue projection for a 20% share of the Internet adverting market. Bear in mind that the present valuations are based on a considerable amount of hype and expectation from relatively few private investors buying up a small slice of the company (see Stock Trading in Private Companies).
No matter the numbers, this is truly a remarkable development in the social media networking space and Facebook's progression moving forward will be followed with interest by a great many.
See related article on Google Stock Performance.
Google stock and Yahoo stock can be found in the stock market segment of this website where you will also find stock trading articles, a guided series on stock market trading and explanation of candlestick technical analysis techniques and candlestick charts.